Protecting our Elderly and Most Vulnerable
As many of you may know, this disease is hitting our long-term care facilities especially hard. These facilities house a vulnerable population and unfortunately, they have experienced significant outbreaks. The Baker Administration just yesterday has put forth a number of solutions to overcome the situations in our nursing homes, which are set forth below. Our community has not been immune to this problem, and there are facilities in my district experiencing a high level of both residents and staff testing positive. It is with great sadness I report that we have seen a significant loss of life. I am working closely with town leaders to help get the personal protective equipment (PPE) the staff desperately need. I have also pushed for greater testing of staff which is now happening.
In addition to the policies regarding nursing homes implemented by the governor in March, the administration has released new resources and ongoing steps to support long-term care facilities.
The Commonwealth is launching a Nursing Home Mobile Testing unit to protect vulnerable populations residing in nursing homes and assisted living facilities in partnership with the DPH, National Guard and the Broad Institute.
The governor announced a 10% increase in MassHealth rates across the board for all nursing facilities.
Facilities that create dedicated COVID-19 wings or units will be eligible for an additional 15% rate increase, for a total of 25%.
Approximately $30 million will go to supporting facilities that established dedicated skilled nursing facilities.
Since the beginning of March, the Massachusetts COVID-19 Command Center has distributed approximately 1.3 million masks, almost 200,000 gowns and over 2 million gloves to long-term care facilities.
There is also a new Nursing Home Resource Line, a dedicated phone line to connect the families of nursing home residents with information, resources, and answers to questions about the care their family member is receiving during COVID-19. Call (617) 660-5399, seven days a week 9am-5pm.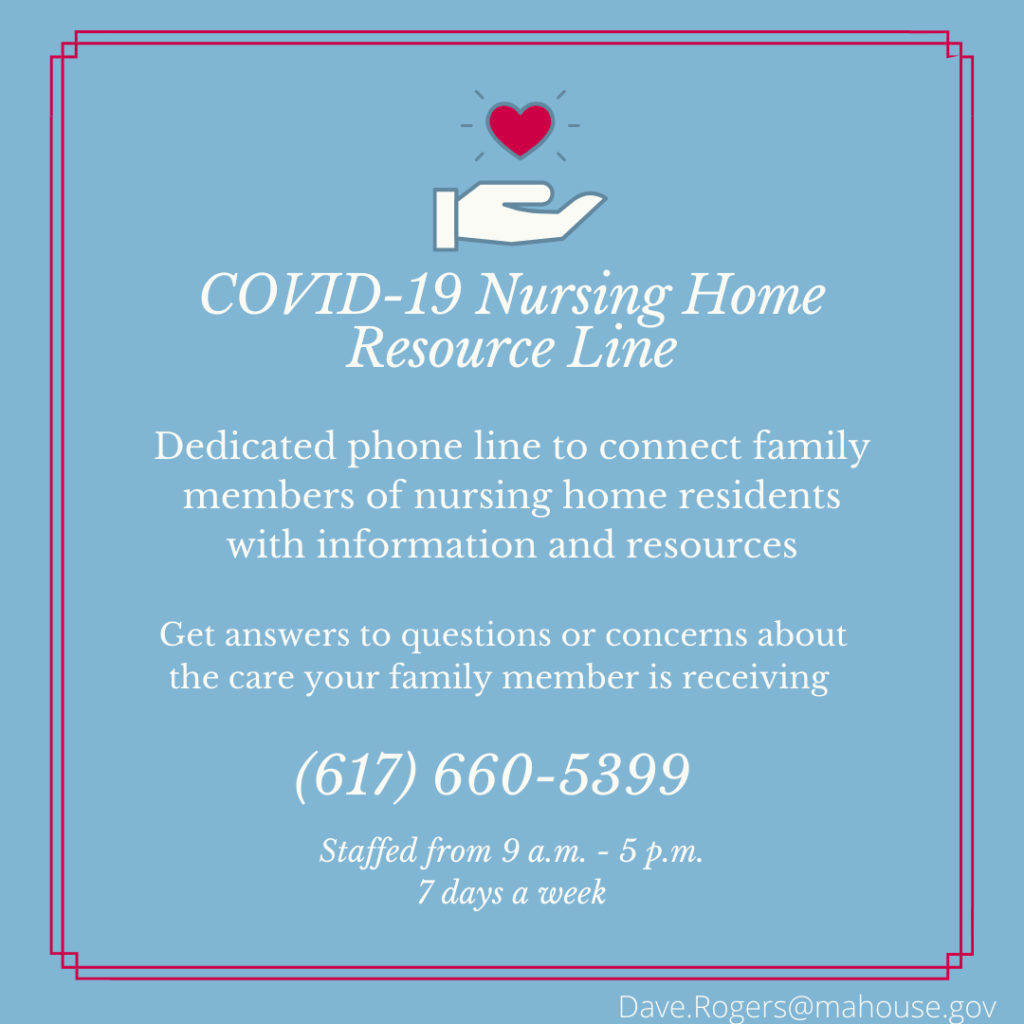 In this same vein, please check in on your friends and neighbors who are elderly or otherwise compromised. Ask them if you can go grocery shopping or run errands for them so they do not have to go out in public for the time being.