UPDATED 1/19/21: The Covid-19 vaccine is being provided free of charge to all individuals by the federal government. View the latest vaccine updates in MA below:
Vaccine Timeline Information

Massachusetts has an active vaccine advisory group working alongside the CDC to develop plans to distribute the COVID-19 vaccine equitably, and in a timely manner. The group includes leaders from diverse settings, such as health care, the faith community, community organizations, local government, and others. With their recommendations, the timeline prioritizes: protecting our most vulnerable, maintaining health care system capacity, and addressing inequities in health care access and COVID-19 burden.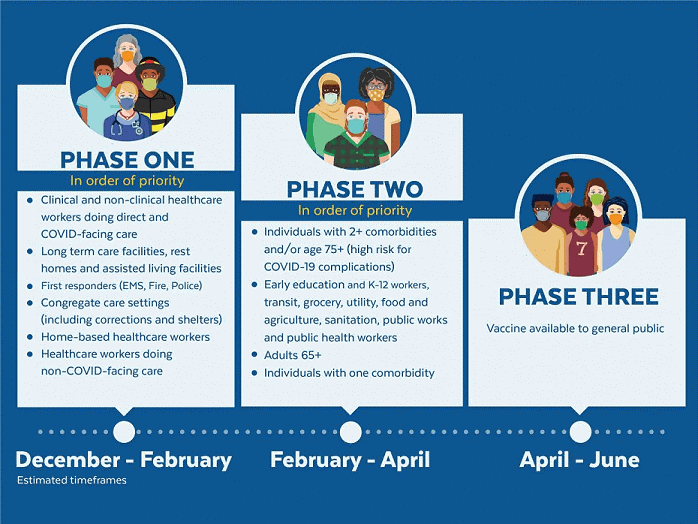 For more details and updates on vaccination priorities, please visit https://www.mass.gov/info-details/when-can-i-get-the-covid-19-vaccine
The Massachusetts Department of Public Health has created an interactive dashboards that provide visual data and interactive tools that allow the public to view COVID-19 information, trends and updates.
Weekly COVID-19 Vaccination Report

The Department of Public Health's Weekly COVID-19 Vaccination Report is updated each Thursday by 5:00pm. The report includes vaccine distribution numbers by county, as well as age and race/ethnicity breakdowns of those receiving vaccines.
Frequently Asked COVID-19 Vaccine Questions
The Massachusetts Department of Public Health has created a frequently asked questions site that will be routinely updated. Constituent questions can be submitted to COVID-19-Vaccine-Plan-MA@mass.gov
CDC Covid-19 Vaccine Information
In addition, please feel free to call my office at (617)722-2637 or call me on my personal cell phone at 617-817-9395 if the need arises. If you hear of friends or neighbors in need during these difficult days, please pass along my contact information and send them my way. My staff and I are here to help.