UPDATED 5/6/21:
General Public Now Eligible For The Vaccine

On April 19th, people aged 16 and older became eligible for the COVID-19 vaccine. If you are under 18 years old, there are certain steps you should take to receive the vaccine. Individuals aged 16 and 17 must receive permission from a legally authorized representative (usually a parent or guardian). This can be done by completing a written consent form that the minor (the person under the age of 18) can bring to his or her vaccination appointment.

If you have not done so already, you can visit the State's pre-registration page and follow the instructions to sign up. Pre-registration now includes mass vaccination sights and regional vaccine clinics.
Walk-In Appointments

Governor Baker recently announced that six of Massachusetts' seven mass vaccination sites will begin offering walk-in COVID-19 vaccine appointments as soon as next week. Anyone who wants to get the vaccine will now be able to walk into the following sites without making an appointment online:
Hynes Convention Center
Reggie Lewis Center
DoubleTree hotel in Danvers
The old Circuit City in Dartmouth
Eastfield Mall in Springfield
Natick Mall
CVS has also announced that they will now be accepting walk-in vaccinations without an online appointment. You can find the nearest CVS offering COVID-19 vaccines here.

MassVax Sites Ramping Down

While mass vaccination sites are now allowing walk-in vaccinations, the Governor recently announced that mass vaccination sites at Gillette Stadium in Foxborough, the Hynes Convention Center in Boston, the DoubleTree hotel in Danvers, and the Natick Mall in Natick will ramp down and close by the end of June. The Administration's plan is to see all mass vaccination sites ramp down operations or transition to more targeted community efforts, such as providing doses to mobile clinics.

If you have not yet been vaccinated, do not worry, the mass vaccination sites have thousands of time slots available. You can now book appointments directly on the Commonwealth's vaxfinder website.
4/7/2021:
Commonwealth residents age 55+ AND people with at least one certain medical condition are now eligible to schedule vaccine appointments. If you have not done so already, you can visit the State's pre-registration page and follow the instructions to sign up: https://vaccinesignup.mass.gov/#/ For more information on eligibility, visit: http://mass.gov/COVIDvaccine
03/16/21: The Covid-19 vaccine is being provided free of charge to all individuals by the federal government.
The Commonwealth's preregistration system contains clear, accurate, and frequently updated information about finding and scheduling available appointments for COVID-19 vaccines for constituents who are eligible. If you or someone you know are interested, you can find the website here: https://www.mass.gov/info-details/preregister-for-a-covid-19-vaccine-appointment
Mass vaccination locations include:
Gillette Stadium
Fenway Park (moving to Hynes Convention Center March 27)
Reggie Lewis Center
Danvers DoubleTree Hotel
Natick Mall
Eastfield Mall, Springfield
Former Circuit City, Dartmouth
View the latest vaccine updates in MA below:
Vaccine Timeline Information

Massachusetts has an active vaccine advisory group working alongside the CDC to develop plans to distribute the COVID-19 vaccine equitably, and in a timely manner. The group includes leaders from diverse settings, such as health care, the faith community, community organizations, local government, and others. With their recommendations, the timeline prioritizes: protecting our most vulnerable, maintaining health care system capacity, and addressing inequities in health care access and COVID-19 burden.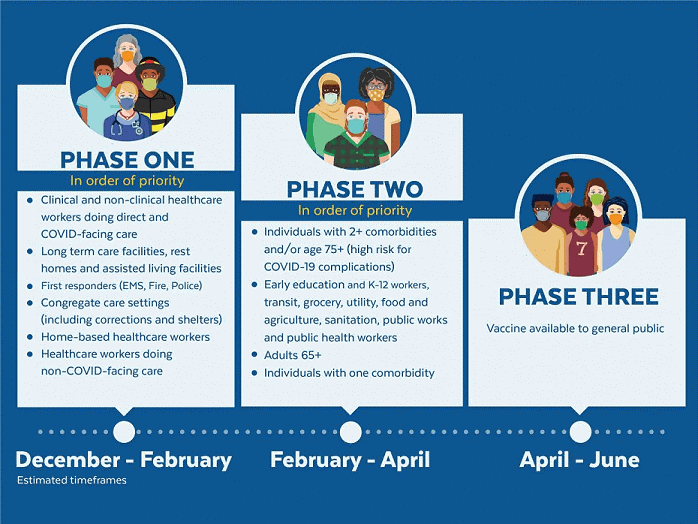 For more details and updates on vaccination priorities, please visit https://www.mass.gov/info-details/when-can-i-get-the-covid-19-vaccine
The Massachusetts Department of Public Health has created an interactive dashboards that provide visual data and interactive tools that allow the public to view COVID-19 information, trends and updates.
Weekly COVID-19 Vaccination Report

The Department of Public Health's Weekly COVID-19 Vaccination Report is updated each Thursday by 5:00pm. The report includes vaccine distribution numbers by county, as well as age and race/ethnicity breakdowns of those receiving vaccines.
Frequently Asked COVID-19 Vaccine Questions
The Massachusetts Department of Public Health has created a frequently asked questions site that will be routinely updated. Constituent questions can be submitted to COVID-19-Vaccine-Plan-MA@mass.gov
CDC Covid-19 Vaccine Information
In addition, please feel free to call my office at (617)722-2637 or call me on my personal cell phone at 617-817-9395 if the need arises. If you hear of friends or neighbors in need during these difficult days, please pass along my contact information and send them my way. My staff and I are here to help.